Emotional Intelligence is a concept focused on how effectively people work with others. Emotional Intelligence skills are unique from a person's technical skills and cognitive abilities. Multiple studies have shown that Emotional Intelligence competencies often account for the difference between star performers and average performers, particularly in positions of leadership.
The Emotional Intelligence Optimization
assessment and development guide helps any employee pinpoint the specific skills, habits and attitudes they should focus on for improved performance. It includes an assessment of productivity skills in 12 categories (see example below) providing a graphical representation of.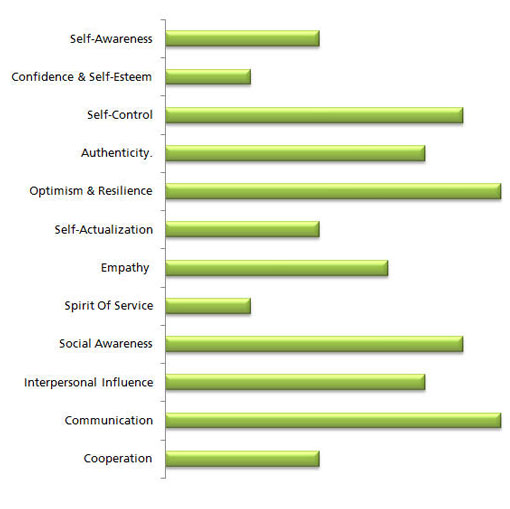 Emotional Intelligence:
Ability to perceive and understand one's own emotions and the emotions of others .
Having insight into oneself, and awareness and empathy for others .
Behavioral Intelligence:
Ability to recognize the impact that emotions have on one's own behavior and the behavior of others .
Ability to use this awareness to manage personal behavior and relationships .
Individual Assessment and Self-Paced Learning
Individuals can complete the online assessment in less than 20 minutes, then be linked directly to training and development resources based upon their assessment results. A downloadable Development Guidebook helps to focus and structure their learning.
Organizational Assessment and Targeted Training
When a group of employees completes the online assessment, a "Manager Dashboard" is available with robust reporting capability to run aggregate group reports by geography, division, business unit, work group, etc. These aggregate reports provide objective analysis of a group's productivity strengths and development needs. Based on the group results a broad range of training tools are available for targeted skill development.
"We look forward to serving your organization and exceeding your expectations"