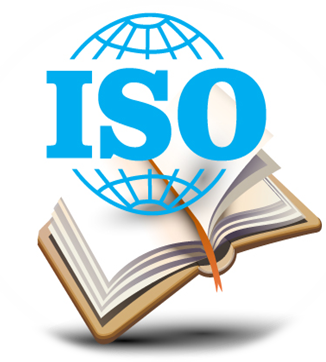 ISO Consultancy& Training
We offer comprehensive services that help organizations achieve their strategic goals with high quality. Our team and associates assist clients in developing accurate & realistic plans and their implementation to achieve accreditation/certification to internationally set standards.
WHAT IS ISO?
I ISO certification identifies any corporation as prestigious, credible and trustworthy organization.
PARTIAL LIST OF SATISFIED CLIENTS:

ISO BENEFITS TO YOUR BUSINESS:
Cost savings - International Standards help optimize operations and therefore improve the bottom line
Enhanced customer satisfaction - International Standards help improve quality, enhance customer satisfaction and increase sales
Access to new markets - International Standards help prevent trade barriers and open up global markets
Increased market share - International Standards help increase productivity and competitive advantage
Environmental benefits - International Standards help reduce negative impacts on the environment
ISO BENEFITS TO SOCIETY:
Provide confidence that products are safe, reliable and of good quality. For example, ISO's standards on road safety, toy safety and secure medical packaging are just a selection of those that help make the world a safer place.
Preserve the environment and the health of citizens through International Standards on air, water and soil quality, on emissions of gases and radiation and environmental aspects of products.
ISO BENEFITS TO GOVERNMENT AND COMMUNITY:
Expert opinion - ISO standards are developed by experts and by integrating an ISO standard into national regulation, governments can benefit from the opinion of experts without having to call on their services directly.
Opening up world trade - ISO standards are international and adopted by many governments. By integrating ISO standards into national regulation, governments help to ensure that requirements for imports and exports are the same all over the world.
OUR UNIQUE CETTIFICATION PROCESS: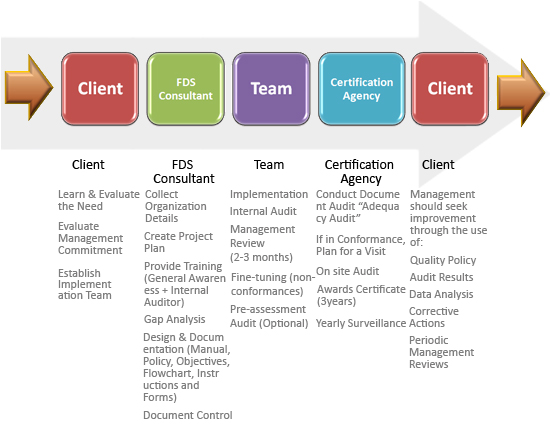 | | |
| --- | --- |
| ISO:9001:2008 | Quality management system ISO 9001 certification |
| ISO:14001:2004 | Environment management system ISO 14001 certification |
| ISO: 22000:2005 | Food safety management system ISO 22001 certification |
| ISO 13485 certification | Medical devices quality management systems requirements |
| ISO/TS 16949 | Quality management system for automotive industry |
| OHSAS 18001 | Occupation, health & safety OHSAS 18001 certification |
| BS 7799/ISO 27001 | Information security management system ISO 27001 certification |
| ISO 50001 | Energy management system ISO 50001 certification |
| ISO 20000 certification | IT service management system certification |
BEST PRACTICES:
We have maintained 100% success rate in all of our projects as we have adapted the following steps:
Conduct Awareness Programs for all the employees (Top + Middle + Bottom Level).
Carry out micro level survey and gap analysis.
Form a Task Force for Documentation.
Prepare documents as per system requirements, review and revise it for benefit of organization.
Implementation & Train All Personnel in the Use of Procedures & Formats.
Train Internal Auditors.
Assess the System Through First Internal Audit.
Take Corrective Actions for Non-Conformities.
Apply for Certification to internationally recognized certifying body.
Conduct management review meeting
Assess the System Through Second Round of Internal Audit.
Avail Pre-Certification Audit of Certifying Body.
Take Actions on Suggestions Given by Them.
Final Audit by Certifying Body.
CLIENTS & SERVICES:
The Above Best Practice approach has been proven to be the most practical one, and was evident in helping S. Aramco to get their Laboratories get ISO 17025 Accreditation (Yanbu Refinery, Jeddah Refinery, Riyadh Refinery & R&D Laboratories) in addition to training and qualifying RT Laboratory employees on laboratory Safety, Audit and Quality Management Systems. That was also true with other clients like Bin Sina, Al Kaabi, RAWEC and others. (Note: ISO 17025 includes preparing the facility for ISO 9001:2008). Our services include the followings:
Training: We also conduct the following courses, in association with international accreditation institutes:
IRCA ISO 9001:2000 Foundation (1 day)
IRCA QMS ISO 9000 Internal Auditor (2 days)
IRCA QMS ISO 9000 Auditor/Lead Auditor (5 days)
IRCA OH&SMS OHSAS 18001 Foundation (1 day)
IRCA OH&SMS OHSAS Internal Auditor (2 days)
IRCA OH&SMS OHSAS Auditor Conversion (3 days)
IRCA OH&SMS OHSAS 18001 Lead Auditor (5 days)
IRCA ISO 14001 Foundation (1 day)
IRCA EMS ISO 14001 Internal Auditor (2 days)
IRCA ISO/TS 16949 Auditor/Lead Auditor (5 days)
IRCA FSMS ISO 22000 Auditor/Lead Auditor (5 days)
IRCA ISMS ISO 27001 Auditor/Led Auditor (5 days)
IEMA Lead Environmental Auditor (5 days)
"We look forward to serving your organization and exceeding your expectations"