The Phone Skills Optimization program was designed to be flexible, affordable and effective and consists of 6 learning modules.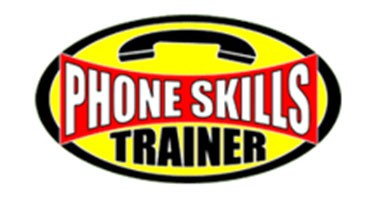 Essential Telephone Etiquette.
Positive and Productive Language.
Service-Oriented Attitude.
Handling Complaints.
Energy and Stamina.
Solving Problems.
Flexible - You can select the modules you want to deliver, and the delivery method that best suits your organization's needs: e-learning, DvD Video, Audio CDs, or onsite workshops (delivered by our certified trainers or your in house staff using our facilitation guide.) If your organization has an online learning management system, you can license the Phone Skills Optimization program for delivery on your own server.
Affordable - A single e-learning module starts at $44.50 per participant, with volume discounts available. The DvDs start at $245 and are licensed for use by multiple participants. See the Pricing Summary for more details.
Effective - Our program is uniquely designed to be in alignment with adult learning principles. Adults are just-in-time learners, and overwhelming them with hours of training content in a single session is typically not very effective.
Your organization may choose to deliver a single module or selected modules, based upon your unique situation and training needs.
A variety of resources are available for each module, allowing you to easily execute the program in a way that fits your organization's budget, timing and learning objectives.
e-learning courseware: Most organizations use our e-learning courseware either as the primary delivery method, or as reinforcement for live workshops conducted on site. .
Facilitator Guide: Your own trainers or team leaders can easily deliver live Phone Skills Trainer workshops using this guide. It included handout masters, PowerPoint presentations and fully scripted workshops for each of the 6 modules.
Participant Guide: This guide can be used to reinforce the e-learning courseware or live training workshops. It features skill-based content for each of the 6 modules.
Audio CDs: A set of 8 audio CDs covering all 6 learning modules. Often used to "train the trainer" and also for workshop participants, to reinforce new skills and habits.
DvD / Video.Workshop facilitators typically use these video segments to augment live training workshops as they deliver each of the 6 learning modules.
"We look forward to serving your organization and exceeding your expectations"