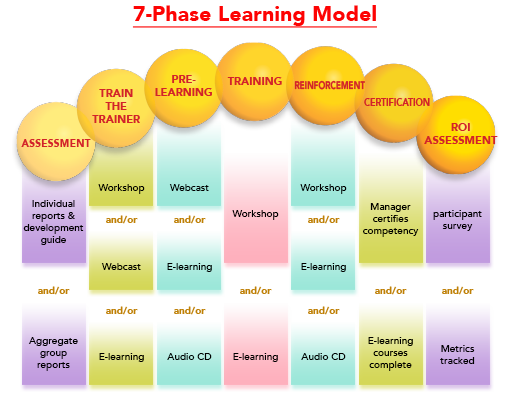 The most unique thing about Success Story International is our team of "expert coaches".
Our entire system of online assessments linked to targeted development resources, was developed as we worked closely with… and listened carefully to… our clients. We were determined to create a solution that perfectly fit their need for flexibility in training implementation, and certainty of training impact. Your organization will enjoy the benefit of such professional and effective training.
Here is what the journey to success would look like:
Phase 1 - Assessment: your team will take our online Assessment(s) relating to the area in need of optimization (in this case we recommend 3 specific assessments based on current needs). This will determine a baseline of current skill-sets and mindset as well as development needs. We are also able to customize the online assessments for clients who have unique needs or circumstances such as your organization.
Discover the company's status. For this we have an assessment called Corporate Discovery Form which helps us assess the current status, objectives and what critical issues are valued.
Discover the strengths and growth opportunities for the Line Foreman leaders. For this we have two additional assessments (they can chose one or both):
- Leadership Style Assessment – designed to understand the way their leaders behave
- Leadership Skill Assessment – designed to understand a leader's capabilities and competencies
Phase 2 – Train-the-Trainer/Coach: Once key mentors throughout the organization have been identified, we provide them with the knowledge and skills needed to be effective coaches during and after training sessions.
Phase 3 – Pre-Learning: Whether this is delivered through conference calls or webinars, this phase is designed to build a solid foundation of knowledge and awareness before the actual workshop. This helps to ensure that the training can focus on building and applying skills, rather than lecturing to deliver basic knowledge.
Phase 4 – Training: The actual Training can be engaging, challenging and actually fun when our 7-step approach is used. Participants can engage in exercises and role playing, discussions, bring their own experiences and perspectives to the training, and ensure that "real world" application to their specific task/job of the new skills is accomplished. You can count on this workshop to be engaging, thought provoking and focused on practical skill development.
Phase 5 – Reinforcement: Success Story International has developed a broad range of reinforcement tools including online learning, workbooks, audio CDs, DVD videos, conference calls and webinars. The approach will be customized Your Organization's unique needs and circumstances to optimize results.
Phase 6 – Certification: This is a critical phase to ensure the success of a training effort. This will be done in collaboration with your management team. The certification helps to pinpoint areas or individuals where additional training is needed, and ultimately ensures effective knowledge and skill transfer. Effective certification includes specific performance standards that provide positive incentives for achievement and negative consequences for non-performance.
Phase 7 – ROI Assessment: We will work closely with your management to define their own matrix in advance of the training so that they can measure the true results as the training effort progresses.
"We look forward to serving your organization and exceeding your expectations"