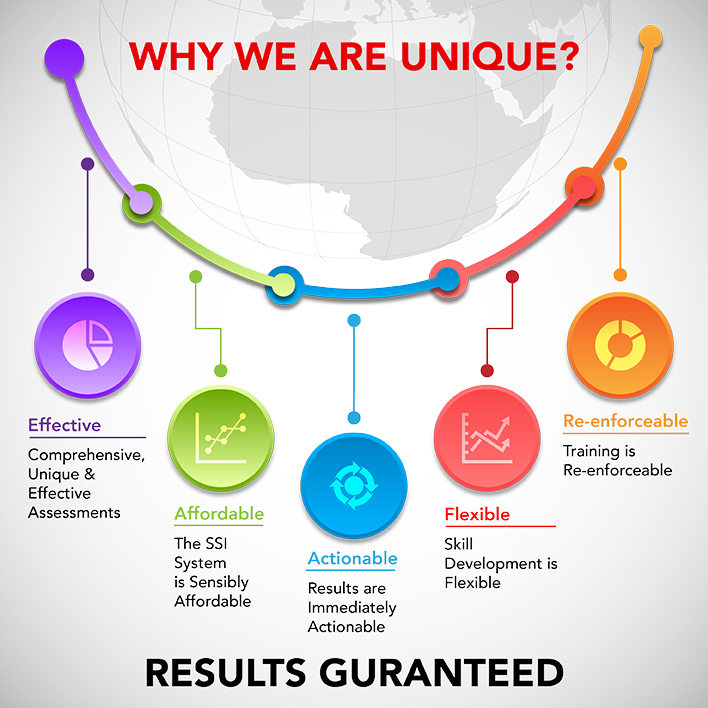 There are hundreds, maybe even thousands, of training tools, resources and programs available. So why should anyone decide to use Success Story International for growth and prosperity training? Because we don't just "do training." Our Customized training solutions are built upon a 7-Phase Learning Model that has been proven to optimize the ultimate results of any training initiative you may have. Equally unique are our meticulously selected coaches, they are individuals who have achieved "Real World" excellence in their areas of expertise and not just
sharing theoretical content with you. Here are just a few of the unique aspects of our effective and guaranteed tools:
Our Comprehensive Assessments do not measure a person's knowledge of a specific training program or process. The skill categories are designed with an "open architecture" so they are modified and customized as the training unfolds. You can also count on the results to be accurate because the assessments have been thoroughly researched, validated, and field tested by thousands of people.
The System is also Affordable, we have worked very hard to make this entire system of training resources very cost-effective for you.
The Results are Immediately Actionable Once an individual completes the assessment, he/she can begin working on skill development almost immediately. And when they want training workshops, our Facilitators and Coaches make it easy to quickly create targeted training events. This guidance includes:
Fully scripted workshop for each of the skill categories (customized when applicable)
PowerPoint presentation for each skill category (customized to the needs)
Reproducible handouts and overhead masters (customized to the needs)
The Skill Development is Flexible. You are not tied down to just one mode of training delivery. You can leverage any combination of:
Onsite or offsite Workshops
E-learning courses
Audio CDs
Podcasts
Webinars
And Workbooks for self-paced learning
And finally, The Training is Reinforcable This means that the resources listed above can also be used to reinforce the initial training delivery. Our goal is to create a training program that truly lasts, driving long-term skill development and lasting results.
Every one of our programs includes solid reinforcement tools to insure that your training initiatives produce long-term results. The bottom line: you can depend on Success Story International to produce the results desired. We are committed to long-term, measurable optimization in productivity, efficiency and morale resulting in higher revenue and reduced expenses. We don't just pop in… train… get paid and run off… we stay with you till your desired results are achieved.
"We look forward to serving your organization and exceeding your expectations"